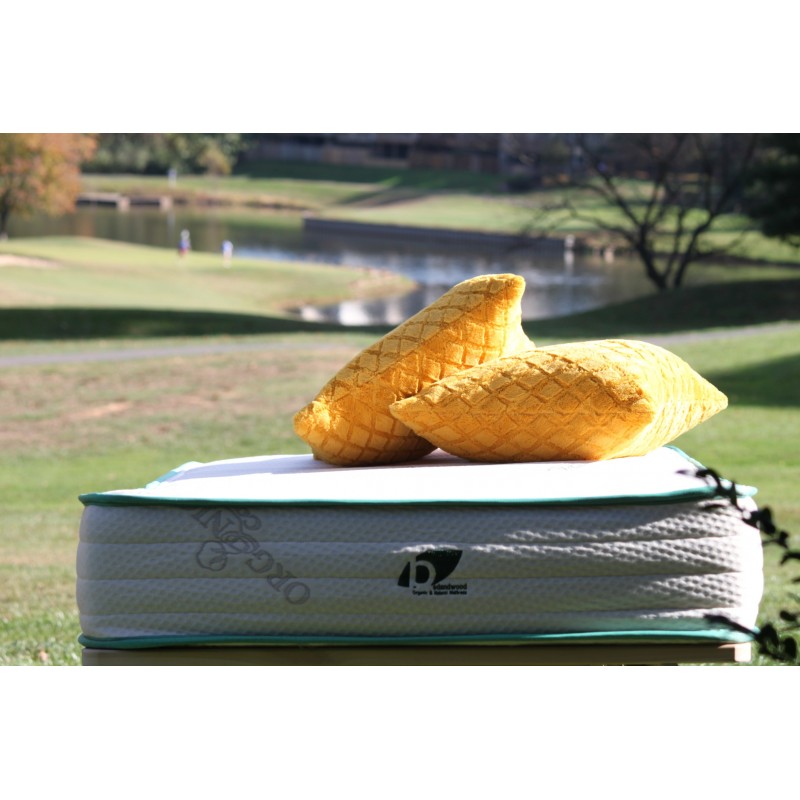  
Natural Latex mattress with dunlop latex foam, two sides of firm and soft.
Luxury and comfort combine in our dunlop latex mattress that is wrapped with a plush organic cotton based fabric. This is a 100% latex mattress with no memory foam, experience sleeping on nature's best foam. Also in 5" thin latex mattress ideal for kids bed and trundle beds. Available in all sizes of King, Queen, Twin, Full and Twin XL. 

Terms of Service
Read before purchase
Return policy
Please read before purchase
SLEEP SOFT OR FIRM- ALL NATURAL LATEX MATTRESS

Smaller screens-view in landscape or pinch/zoom



LATEX BED FOAM -  NO COILS OR FILLERS.
TWO SIDED FIRM LATEX MATTRESS 
You walk into a store and try mattresses for a period of time but are you sure it will be perfect. We made this decision less risky by creating a reversible dunlop latex mattress. In most foam mattresses online, you will have to chose a one sided single density foam.  Reversible gives you the power to decide your firmness preference, it gives you the freedom to change. Anytime its not to your liking, reverse it and you get a plusher or harder sleep surface.  
100% NATURAL LATEX - PURE RUBBER FOAM
We use all natural rubber foam from generational tree farms in Sri Lanka, that have ISO 14001 compliance certification. There is minimal difference between their natural latex and organic natural latex, with their ecological practices. Our latex is from the dunlop method as unlike Talalay the foam mattresses are firmer, durble, more dense and bouncier. For a complete sleep experience, ensure you get our firm latex pillow with cotton cover.
ORGANIC COTTON FABRIC 
The outer cover is made from organic cotton with a soft touch, it fully completes the premium sleep experience. With elegant green piping running across this eco friendly latex mattress, it provides a beautiful contrast with the off white organic fabric. Organic cotton logo is embroided across the length of the fabric to elevate the look. There are handles that support the weight of the mattress and firmness tags that guide you to the type of foam under the cotton fabric. The mattress is completely stitched so it does not shift during its long usage, this fabric cover cannot be removed in order to retain its shape. 
THIN LATEX MATTRESS 
Thin mattresses are very versatile, maybe you have a need for a wooden bunk bed or a RV bed that has a low profile. Alternately you may be looking for a a low profile sleeping surface to help with your back pain or like one our customers want to save space to store a thinner mattress guest bed under a larger bed available. Whatever be your reason, one of the few all natural latex mattress online with a 4" latex foam layer hence providing you a sleep option at the price of a latex topper. The best part, even this is made reversible.

BEST OPTION FOR KIDS AND THE HEALTH CONSCIOUS

FAVORITE ORGANIC MATTRESS FOR BUNK BEDS!
 This is a mattress ideal for bunk bed (twin or full), also suited for loft bed or trundle bed sleep options.
100% latex mattress foams are hypoallergenic helping young minds sleep better.
All natural latex mattress are also cool unlike memory foams or PU foams that have closed cells, creating thermal trap. 
Bunk beds require thinner latex mattress that our 5" mattress is the best suited for.
 

NATURAL BASE FOR FIRE SAFETY
A thin and as natural as possible fire sock from Rayon(Wood pulp base)- 48%, Silica(Sand base)- 24%, Polyester – 22%, Wool/Silk- 3% each. Sheep products are not used as it is known to attract more germs than latex. 
FIRM LATEX TO HELP BACK PROBLEMS?
Latex can help with back pain especially with a firm latex mattress.
A firm slat or wooden base will ensure more support for the spine or side.  
Always consult a medical provider, this is not meant to cure a disorder or disease
. 
Free Shipping 
We ship all our products, for no cost, it is totally free. Given we ship from SC, most locations are served by 5 business days.
Ready on delivery
Our mattresses are compressed, roll packed but need no time to be used on delivery. Unlike foam mattesses there is no off gassing, also only need 4 hours to retain shape. 
30 nights free trial, 15-Year Warranty
We offer a free trial of 30 days for our latex foam beds if you do not like it send it back and we will refund the purchase cost. Return shipping will not be borne by us given our bargain price. Latex mattresses will last almost 20+years, if you maintain it well.  Read about our warranty and free nights policy here.
Competitive discount prices 

Our passion is to get more people sleeping on natural mattress, we reduce our margins to enable this. We have no middlemen and ship direct from factory therefore keep our prices low. 
All US mattress sizes
Latex foam bed in King, Cal King, Queen, Double/Full, Twin XL and Twin are available. 
Dense and heavy
Dunlop latex foam is heavy so please use caution while relocating this. It will be easier to move before it expands fully. 
FAQs : Natural Latex Foam Mattress


All Natural latex mattress is generally considered the personal mattress of those who make mattresses! This is the cream of natural foam products, made from rubber tree. Our reversible natural latex mattress has Dunlop latex on both the firm and the soft side. Unlike other reversible mattresses, we do not use Talalay foam which is more of a modern latex foam with lower density, similar to other polyurethane foams. Dunlop latex is what people have used for generations to sleep, we have retained this Asian sleep experience in a modern and luxurious construction.

The latex in our mattress could as well be organic as it is that natural and pure. It is certified and imported from Sri Lanka. In these verdant tree farms, these have been there for so many years and growing naturally that the producers do not see any difference between organic and natural.

5" Latex foam mattress:

Certified organic cotton fabric (0.5")
Natural rayon based fire barrier (0.5")
2 inches of 100% natural firm Dunlop latex (85 Density)
2 inches of 100% natural soft Dunlop latex (65 Density)

9" Latex foam mattress:

Certified organic cotton fabric (0.5")
Natural rayon based fire barrier (0.5")
6 inches of 100% natural Dunlop firm latex (85 Density)
2 inches of 100% natural Dunlop soft latex (65 Density)

Dunlop latex is much firmer rubber foam and it has been in usage for decades. We can achieve the required softness or firmness required with this latex without comprising longevity that comes with a less dense foam. Most of Talalay latex is synthetic rubber or blended, factory processed latex. We have so many customers who want only Dunlop latex having slept in them prior, especially having had poor experiences in memory or other softer poly foams.

There are many new sources of latex from China, Thailand which were not available in the years past. We prefer where our founders and for centuries latex has been tappeds, SE Asia in either Kerala or Sri Lanka. These are the some of the highest quality all natural latex on earth, made from the pure sap of the Hevea Brasilienesis (rubber tree). The factory that makes our latex foam is compliant with Oeko-Tex 100 and Eco-Institut certifications, they harvest responsibly and are ISO certified in their practices.

Indentation Load Deflection (ILD) is a standard method of tabulating the firmness or hardness of polymer based materials. ILD is measured by pressing a foam to 25% of its actual height, or in other words indenting or compressing. The amount of force (in pounds) required to indent the foam to its 25 percent is the ILD measurement. The more force required, the firmer the foam. Our mattress foam ILD is appx 23 on the softer side and appx 34 on the firmer side. Density of latex foam cores are usually expressed by mass per unit volume. It is a value measured by kg / m³ and is calculated by weighing of a standardized foam sample (ISO regulated). Our mattress has density of 65 on the soft latex side and 85 with the firm latex foam. From the above, you can easily determine that ILD and Density is not the same. Even if a memory foam has ILD 34, its density will likely be much less than a natural latex foam mattress. Dunlop latex has more mass for lesser space, this is the reason why it is heavier, can last a long time and retains its shape.

Our soft and luxurious cotton cover is made from certified organic threads and is a weave made especially for sleepingt comfort. This type of non-woven, stretched cotton ticking not only feels better than quilted or woven cotton for resting, but this organic cotton cover has good stretch-ability that provides a better wrap around a latex foam core. Woven cotton covers are knit tighter and created in an overlay process moving threads one over the other, this is sturdy but not the softest experience for sleeping.

All our mattresses use not just natural Portland wool but Organic wool, hence our primary preference is always organic wool. For this natural latex foam mattress, we wanted to give a non-wool experience and as close as possible to directly be sleeping on natural rubber foam. Hence, we adopted a rayon-based fire retarding fabric that is without any fire retarding chemicals. It is thinner than a quilted wool layer but equally if not more fire safe. Some of our customers indicate that wool creates heat for them during summer month, this mattress can be ideal for women and kids.

Our company is all about luxurious sleep handmade in USA. Our two sided latex mattress are made in South Carolina and built after you placed an order.

The mattress is stitched after the order and not stored/shipped from a warehouse. The key part is the embroidery on the outer cotton cover, we only do this after the order. This ensures your mattress has pristine, fresh clean threads and our green piping contrasts beautifully with the mattress. Nevertheless, we always work with our customers, so give us a call or include a request in the order for us to ship it faster and we will do our very best.

Yes, we can work with you for a custom request. You as a customer are always right and can surely determine which is the right firmness. From our experience we have found that most people feel differently a few weeks after they have slept on a mattress, especially if they assume the firmness to be similar to other types of foams. As we explained above, ILD can be the same but density will make the experience much firmer. Hence instead of being dissatisfied for firmness, this dual side ensures that you have the choice and we recommend keeping it such! How many natural latex mattress or even other types can you find like this?

Its made quite easy by stitching labels that indicates the firmer or softer side. Just grab the elegant handle, flip it over and you have a new mattress.

We ship ready to unpack and use mattresses. There is no need for you to do any work in pulling the foams, aligning the corners, wrapping the cover, so on. We put the final stitches, seal it in a vacuum bag, compress and then roll pack into a white box with our branded tape. The last thing we want to do is to make your own mattress after buying a brand on the internet. We want you to love your mattress and not labor over it.

Your latex mattress can remain in compression rolled for up to a few weeks (4-6 weeks) if needed, although it should be unpacked as soon as you can. Just do not unpack it before its ready to be used, it can be a bit heavy to move from one room to another.

A 100% natural latex mattress is heavier than any other foam or coil based mattress, which is a factor of its high quality. Approximate mattress weights in punds (lbs) are below-

| | | | |
| --- | --- | --- | --- |
| Mattress Size | 5" Weight | L x W inch | 9" Weight |
| Twin | 50 | 75 x 38 | 70 |
| Twin XL | 50 | 80 x 38 | 70 |
| Full | 60 | 75 x 54 | 100 |
| Queen | 70 | 80 x 60 | 135 |
| King | 75 | 80 x 76 | 165 |
| Cal King | 75 | 84 x 72 | 165 |

Our natural latex foam mattress has the best return period of all of our mattresses, we provide a 30-day worry free nights. If you don't like send it back and we will reimburse the full amount, return shipping is not included in our offer. We kept our return period reasonable enough for you to try it. Our mattress come with a 15 year warranty against any manufacturing defect, please visit here the complete policy.

We do not have a retail presence but do sell our latex mattress on Amazon and other sites. If you purchase a mattress through these reseller websites, we do not control the return period and policies which can vary.

Any other type of foam mattress besides latex is mostly going to be from man-made synthetically processed or petrochemical bases. This is the primary reason for the bad rap it gets around toxic fumes, toxins and unpleasant gas. These foams also lack the natural polymer structure of latex hence are known to not dissipate heat as efficiently. A twin natural latex mattress is made from cores that are tree-based sap that are Dunlop processed, there are no artificial chemicals or fillers. If they a mattress is being offered at a steep discount with lots of offers, its probably because the core foam is inexpensive and mass produced in factories. Our quality to price value proposition is extremely high.

Any rubber tree based latex is known for being hypoallergenic and antimicrobial, this is a naturally occurring substance with excellent properties. The only concern would be if there is someone already known to be allergic to latex products like gloves, toys.  It is only 1% of the US population known to be allergic to latex and if you are in that group, then you should avoid this mattress. An alternate would be our our organic cotton, wool mattress. Otherwise latex mattresses are one of the most healthiest mattress you can purchase.

We stitch our ticking end to end with an elegant green piping, similar to other high end luxury mattress. This cover is not removable as otherwise the latex layers will shift impacting the warranty of the mattress. In order to retain the natural feel, we reccomend buying an organic cotton mattress protector that can repel any stains or fluids. This will also lengthen the life of your sleep product.

Any natural mattress requires breathing or ventilation space underneath so that it does not accumulate moisture and related growth of micro-organisms. An adjustable mattress base is very popular these days and can work perectly with your new latex mattress.

The CPSC is responsible for safety of mattress, the standards are stricter for childrens mattress.
There are multiple studies and research like this on on PBDEs that are used in mattreses.
Data sheet
Order to shipping

Ships in 3-4 weeks