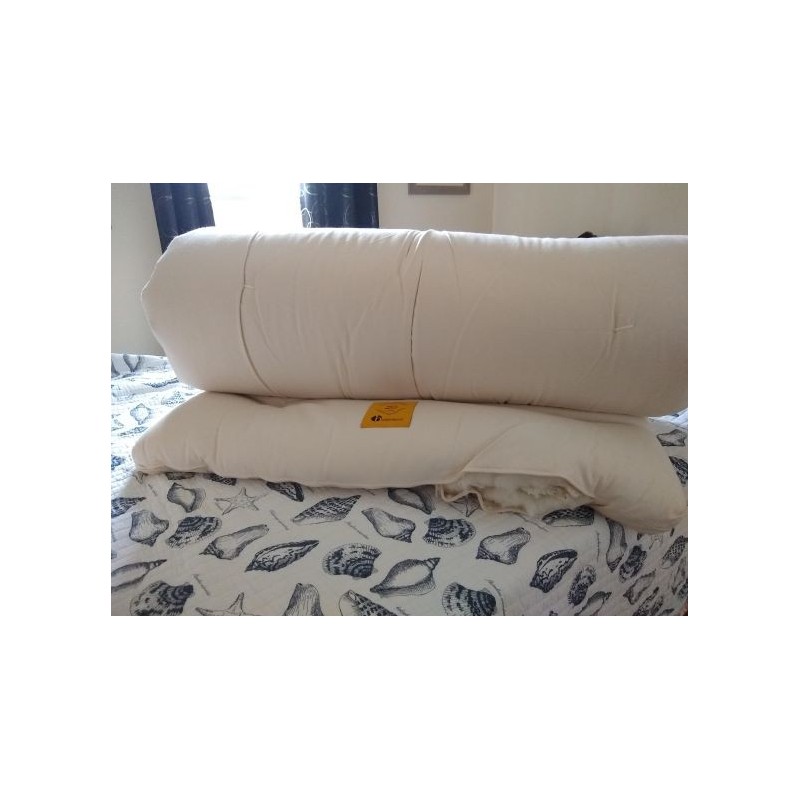  
Shikibuton- Organic thin cotton mattress
Shikibuton is a japanese thin mattress (4") used on the floor or on tatami mats. Our organic Shikibuton is best experienced on slats.  
Check out our Video review of the Shikifuton to get a closer look.  


We offer a sample of the shikibuton, select MINI from size dropdown.

Terms of Service
Read before purchase
Return policy
Please read before purchase
Thin cotton organic mattress, shikibuton like made in Japan.
LAYERS MADE WITH ORGANIC COTTON FIBER!

Our Shikibuton is made for organic sleeping retaining the core construction of an Asian cotton mattress. If you are comparing organic cotton to non-organic cotton, the one factor to remember is cotton is by far the largest user of pesticide across all crops.  Most cotton mattresses will have a musty smell, this is due to the non organic cotton and mixing chemical fills like polyester fibers. 
ORGANIC WOOL- NO FOAMS, BORIC OR FIRE SOCKS

All our organic cotton mattress are made with wool, this made in japan style shikibuton is also from Portland organic wool. The original shikibuton does not have any wool hence when they are imported into US there is a chemical layer of fire sock added. Our shiki mattress passes fire standards by using natural wool, which is not just premium but also expensive. We do also do not have to use poly foam boric acid to meet fire tests, these are pure shikibutons even better than those made in Osaka.  The wool is not  virgin wool or Joma wool but 100% certified organic wool blended from multiple sheep breeds. Wool is  resitant to moisure and ensure heat is disspirated evenly, it is very good for allergies. 
ORGANIC COTTON COVER 

The top layer of the shiki is an organic cotton canvas fabric imported from India, this is truly how cotton mattress are made and need to be slept on. The finish is a bit rough yet soft, made like a canvas and it is absolutely sturdier than tickings or fabric found on other mattress. If you read our description of the Japanese organic futon or Indian cotton mattress, you know that it is a beautiful GOTS organic cotton ticking.The wool is layered behidn the ticking and ensures a soft backing to the fabric. 
Just like in Japan and India, shiki is... 
HANDMADE & TUFTED
Just like our thicker cotton mattress, these are also handmade and made to order.  This is a two sided mattress, which means you can flip it over for the same comfort and same feel. There is a heavy duty zipper running across one side of the mattress that gives you a view of the filling inside, note this cover cannot be removed.  There are multiple hand stitched threads on top, also called tufts, that help to hold the cotton wadding and the wool together. Cotton mattresses are known to lump up hence this ensure a continous smooth surface that does not shift. We always share the guidance that retain the life of your mattress by layering on an organic cotton mattress pad.  
THIN MATTRESS TO HELP BACK PAIN.
Our 4" thinner shikibuton (organic shiki futon) can be used to relieve back pain.There are studies on how Indians use this ergonomic mattress shown to help lower back issues.Cotton futons are normally used on used on ventilated tatami mats or with narrow hard slats. 
Always consult a medical provider as this is not meant to cure a disorder or disease. 
TRUSTWORTHY ONLINE MATTRESS BUYING
Most certified organic futon cotton mattress      


Free Shipping 
We ship all our products, for no cost, it totally free. Given this is a natural mattress, we do not offer any returns and for that reason we provide a mini or sample mattress that you can try to be sure this will meet your sleep needs. 
FREE Sample, refunded after sale
We provide a sample mattress to experience our organic build and the premium quality, select MINI from dropdown. The price of the order is credited to your account and can be refunded towards a future cotton mattress purchase. This mini can be used as a spare pillow or a yoga seat.
5-Year Warranty and 90 Day Exchange
We can assure you that the futon organic mattress will last beyond ten years, if you maintain it well. Our Warranty is for 5 years and we offer a 90 Day Comfort Exchange which can be initiated 15 days following the original delivery date of your mattress. Read about our warranty and exchange policy is here.
Unbeatable Prices
Our passion is to get more people sleeping on natural mattress, truly believe in this. So we want to make this healthy choice affordable for you, we can almost promise you that finding another mattress at our price for our quality will be difficult. 
All US sizes
-Organic cotton futon mattress in King, Cal King, Queen, Double/Full, Twin XL and Twin. 
Mattress is weighed
- Given its natural fibers, our organic futon is filled by weight and hence the height may vary by a few inches. 
FAQs : Futons, Shikibutons


A natural cotton filled mattress is not the same as what is popularly sold as shiki futon mattress. If you find a premium mattress that is not 100% natural fibers eg., coils, springs or memory foams- you are most likely overpaying for your mattress

Shikibutons are also traditional Japanese mattress and called differently in India, the most important part is these have been used by generations of families. The organic bolls of cotton are not the same as found on sofa bed futons that are encased by cheap polyster fabric. These shibuton cotton mattresses are high quality incomparable to spring and poly foam mattresses.  



Japanese cotton mattress are not normally made from organic cotton, we go a step ahead and fill ours with the highest quality cotton form Texas. The cotton layers are higher priced staple and lesser portions of mote, this ensures better indentation response along with the silky softness. A lot cotton mattresses use inexpensive linter cotton fibers that are not as long lasting and are harder in nature.

All our mattresses are filled by weight and not height.
4" Shiki-futon or thin cotton mattress:

Certified organic cotton fabric (0.5")
Organic wool batting (~1")
100% organic cotton batting (~3")

8" Organic Futon mattress:

Certified organic cotton fabric (0.5")
Organic wool wadding (~1")
100% organic cotton batting (~7")

Flip and rotate your bedding once every two weeks. This will discourage body impressions and increase the life of your mattress.

Put your organic cotton based mattress in the sun once or twice a year. Sunlight brings out the fluffiness of both the cotton and wool in a natural bed. Wool in specific gets its bounce back after a sunbath. The other important reason is it kills dust mites and bacterial growth, spores.

Put your mattress out on a sunny day with as much air circulating around it as possible (kept over deck furniture or patio chairs). Keep in mind that if you have pollen allergy, do not put it out when the pollen count is expected to be high so that it does not settle on your beautiful mattress.

Finally, never leave your mattress overnight as dew drops will form and increase any moisture trapped in it.

During sleep, humans tend to have a loss of body fluids. Having a mattress pad above your mattress helps absorb body oils and moisture loss, instead of it seeping into your mattress. With the required protection, a normal mattress can double in its longevity and really be dry and clean for a good number of years. Wash your mattress pad every other week or whenever you wash your sheets.

Accidents tend to happen, this is more so if you have young ones or pets in the home. In such situations, the best thing to do is spot clean the case with water and mild detergent. Then liberally permeate the soiled area with rubbing alcohol (Isopropyl alcohol with no odor) and allow it to dry. The alcohol will sanitize the area, and it will help evaporate the spill faster than it can penetrate the mattress. Be careful with the chemicals you spray as sometimes that may damage your mattress or remove its natural feel

Our soft and luxurious cotton cover is made from certified organic threads and is a weave made especially for sleeping comfort. This is a canvas type of fabric that is suited for tufting or stitches on the top. This ticking is different from natural latex mattress that uses a softer stretch material as the foams layers are more sturdier than cotton and wool batting. Most of our customers love this natural feel to the mattress elevating their organic experience.

These cotton filled mattresses use not just natural portland wool but Organic wool. We do not use hidden boric acid or other forms of fire retarding chemicals.

Our company is all about luxurious sleep handmade in USA. Your mattresses are made stateside and built after you have placed the order.

The mattress is stitched after the order and not stored/shipped from a warehouse. We keep our fiber and batting inventory minimal so that your mattress has the most recent fibers processed to ensure that fresh and clean look. We do have the ability to accelrate an order, please request in the order details text box that it is urgent and we normally charge 75$ extra for a faster construction.

Yes, we can work with you for a custom request. It is always more beneficial to order from stock as custom orders tend to be more expensive and pricing is determined based on request. 

If you are looking for a latex foam to be added, be sure you review our natural dunlop core latex mattress or our organic latex mattress with cotton fibers.

The mattress does not have handles like our latex mattress due to the layers inside, the reason is because cotton mattresses can be rolled. Rolling makes it more suitable for shifting and lifting though please ensure adequate care is taken as these can still be heavy.

We ship ready to unpack and use mattresses in a rolled cylindrical manner like described above. We put the final stitches, seal it in a vacuum bag, roll pack into a white box with our branded tape. Inside the box is a jute bag that houses our care and thank you card, you can use this bag for other household items given its unique character.

Your cotton futon or indian mattress needs to be removed as soon as possible. Cotton can damp down and this will make the height of the mattress appear smaller. Any cotton mattress when exposed to sunlight will support moisture evaporaton for natural fibers to stand out firmer. This can be a remedy if you need to store the mattress for a longer period.

A 100% natural mattress will always be heavier than foam or coil based mattress, which is a factor of its high quality fibers. Approximate mattress weights in pounds (lbs) are below-

Cotton and Wool 8" - LBS

Size

L X W
Cotton
Wool

Twin

75 x 38
45
6

Twin XL

80 x 38
48
7

Full

75 X 54
62
8

Queen

80 X 60
74
10

King

80 X 76
93
12

Cal King

84 X 72
93
12

 

Cotton and Wool 4" -LBS

 Size

 

L X W

Cotton
Wool

Twin

75 x 38
18
6

Twin XL

80 x 38
20
7

Full

75 X 54
25
8

Queen

80 X 60
30
10

King

80 X 76
38
12

Cal King

84 X 72
38
12

Our organic cotton mattress comes with a 90-day exchange gaurantee. We cannot offer free returns unlike foam based mattreses as the cost of manufacturing these is higher due to lack of mechanisation. The best way to avoid a bad experience is to get our sample mini cotton mattress that is refunded to your cost of the regular mattress, most of our customers who buy this go on to purchase a bed sized mattress. Our mattress come with a 5 year warranty against any manufacturing defect, please the complete policy also listed above.

We do not have another retail or online presence at this time but are planning to open a store in Northern Virgina in 2018.

Any other type of foam mattress besides latex is mostly going to be from man-made synthetically processed or petrochemical bases. This is the primary reason for the bad rap it gets around toxic fumes, toxins and unpleasant gas. Your organic cotton mattress is a completely different sleep experience, it will elevate you high like coil or foam based mattresses. This surface is meant to provide you a great cushion but importantly support your spine, side and neck against the wooden hard surface underneath. Synthetic foams also lack the natural polymer structure of latex hence are known to not dissipate heat as efficiently. A cotton fiber mattress along with heat regulating wool is unparalleled in its comfort be it cold or warm months. If you have slept on a similar mattress outside of the US, you will probably be a bigger steward of these mattress than us.

Organic cotton is hypoallergenic and given its not filled with pesticides that normal cotton production uses, there is no chemical leakage. Cotton is unparalled in its usage for humans, the only fabric that is used globally for babies. The wool in the mattress is extremely clean, it is very minimally processed. Very few Americans have reaction to the lanolin in wool once they are in contact with it but that is significantly negated given the wool layer is beneath the cotton fabric. If you still want to be sure, connect to us via the contact us page for a sample of our wool balls.

While there is a zipper cover that runs across the mattress, it is not removable or washable. This is the reason why we reccomend getting an organic mattress pad to protect your mattress, if required you can add a water proof protection layer but it might remove the natural sleep experience.

Our natural mattresses need to breathe hence have to be placed on bed with slats as a frame or on slatted foundation. The gaps in these frames help in the movement and circulation of air helping evaporation of any body fluids and for a more pleasant sleeping experience. Due to the presence of moisture not only do you have the risk of your premium mattress losing its fluffy nature but also the possibility of humidity based bacteria such as mold, mildew. Remember, there are no harmful chemicals in your mattress that coat the strands to inhibit such growth as you know your mattress is organic.

The CPSC is responsible for safety of mattress, the standards are stricter for childrens mattress.
There are multiple studies and research like this on on PBDEs that are used in mattreses.

Mold and mildew normally follow humidity and unclean surfaces. These can cause allergies in normal people to severe illness in sensitive individuals. Mold or mildew can be avoided by properly aerating your mattress, like a slatted frame or foundation. Mattress pads are also required as they help absorb and mitigate moisture collection.

These tiny creatures can start living in fiber or yarn based products (sofa, carpet, etc). Dust mites will get to your natural beds if the surface is warm, has a damp environment and offers food for its needs. Latex and wool are both unsuitable environments for dust mites, hence our mattress with our wool batting is naturally dust mite resistant. With cotton batting, do take the extra precaution of frequent vacuuming with a HEPA filter-equipped vacuum cleaner. Keep your home environment comfortable but not too humid, and avoid keeping cloth items on your bed. Finally, regularly wash your sheets in hot water.
Data sheet
Order to shipping

3 months